Journey to the future: STEAM courses
Our mission
Empowering kids through STEAM literacy
Technology has impacted education and the professional environment immensely. STEAM education takes a holistic approach to learning, combining the fields of Science, Technology, Engineering, Arts and Math. We use STEAM education to teach students soft skills they will need as they grow. Problem-solving, critical and creative thinking as well as teamwork are only a few of the proficiencies we impart through our courses. We are proud to be a part of preparing kids for the future through our coding and digital art school, Tekkie Uni.
What we value
Hands-on experience
You cannot learn without getting your hands dirty. Does online learning prevent this from happening? Definitely not! Our curricula allow students to use screen time positively - be it through coding simple instructions, building an app, animating a drawing, programming a robot or a video production worthy of YouTube. We believe that kids will go from passive screentime consumers to active digital creators.
Our methodology
Live online courses led by experienced instructors
We have found time and time again that students thrive when learning in small groups when led by an experienced instructor. The instructor is a vital part of the equation leading to online learning success. These professionals are trained experts in working with kids and have helped thousands of children, worldwide, graduate from our multi-year curriculum.
Core components
for effective online learning
Professional
instructors
We recruit qualified instuctors who instruct in the language of the students and give them intensive training about our curriculum.
Excellent
content
Structured and customized for engaging students in online lessons with an emphasis on 21st-century skills.
Learning
together
Our learning environment is built around small group classes to increase motivation. We also offer 24/7 tech support, student forums and practice sessions.
Our STEAM school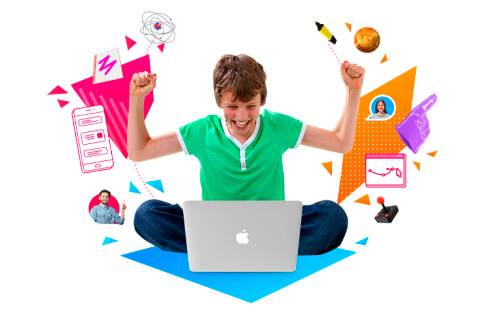 We teach kids and teens coding and digital art, helping them shift from being online consumers to become digital creators.
Go to School site